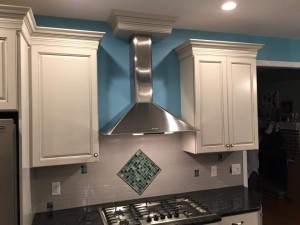 One of the biggest considerations when designing a new kitchen is the cabinetry. There are so many options when it comes to design and construction, it can be hard to know where to start. If you familiarize yourself with a few basics of kitchen cabinets, you can decide which option will work for you.
Stock cabinets are mass-produced and come in limited sizes. Although this makes them less versatile, it also makes them a great option for people on a budget. While stock cabinets were once considered less desirable than other types of cabinets, changes in design principles have increased their popularity. Today, you may use low-cost laminates or particleboard for the interiors, but real wood doors on the exteriors, providing that natural look so many people find appealing.
Ready-to-Assemble (RTA) cabinets are also popular with those working with a smaller budget. RTA cabinets can be found in big box home stores. As with stock cabinets, sizes and styles are limited. Like the name suggests, RTA cabinetry requires assembly. It can be a great choice for experienced do-it-yourself types. If you're not well-versed in construction or installation, you can still purchase RTA cabinets and hire a professional to install them for you.
Semi-Custom cabinets offer more choices in design and are therefore mid-range in price. Most sizes are standard, but there is room for adjustment when it comes to depth. You can choose from different materials, finishes, and even decorative elements. If your kitchen layout can fit standard-size cabinets and you'd like more control over their look, semi-custom could be the right choice for you.
Custom cabinets are made-to-order. For this reason, they are the most expensive of all the options. They are tailored specifically to your kitchen space and personal aesthetic. There is no end to the possibilities. With custom cabinets, you'll work closely with your cabinetry company to select every detail – from sizes and shapes to finishes and accessories.
Choosing new kitchen cabinets doesn't need to be daunting. Examine your budget and your design ideals to figure out the best type of cabinets for you. If you still have questions, contact a professional cabinetry company for guidance.