The Right Wood for Your Custom Cabinets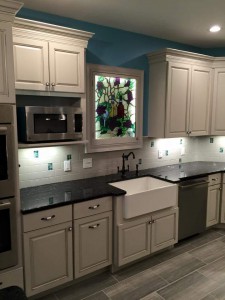 If you've been thinking about investing in wooden custom cabinets for your home, you should know – not all woods are created equal when it comes to home design. This is something you definitely need to consider while deciding which materials to use for your new cabinets, as the option you choose can affect everything from the appearance of your new installation to its durability and how it functions over the years. Therefore, you should take the time to learn a bit more about the most common wood types used in cabinetry before deciding on which wood is the right wood for your needs.
Oak
Oak is not only the most common used in modern custom cabinets, but the most commonly-used wood in home design and furniture overall. This is largely due to its lightweight nature and the fact that it's fairly water-resistant, two qualities that make it ideal for mounting in a kitchen in cabinet form. The style features a strong grain, and is generally used for the recently popular "rustic" design theme, though it can certainly be stained for different effects.
Walnut and Pecan
Walnut is one of the classier options used for building cabinets, and it's sought-after, just like other firm woods like pecan wood. This is because it provides any room with a graceful appearance with its light coloration and tight, smooth grain. However, this option can be hard to stain, somewhat limiting your décor options in the long run.
Birch and Ash
The light coloration and ease of staining these woods makes them a desirable option for most custom creations. They're versatile and able to fit almost any decoration scheme flawlessly. The only downside to these materials is that they can be rather soft, and are therefore prone to scratches and gouges.
Each type of wood has upsides and drawbacks when it comes to serving as a material for custom cabinets, and you should consider each detail closely in order to ascertain which is the best option for you and your home in the coming years to ensure you'll be completely satisfied with your investment.