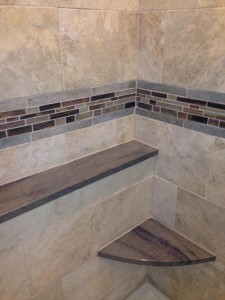 When remodeling it's always a good idea to go into the process with some understanding of the materials and fixtures you'll want to implement. While determining the overall look of your remodel is important, materials may be even more so, depending on the room that's being remodeled. For example, before you jump into a bathroom remodel there's a lot to think about when it comes to the materials. From shower tiles and flooring to bathroom vanities and countertops, you'll want materials that will stand up to constant steaming, splashing and scrubbing without showing wear–something non-porous. Here are some great nonporous options when it comes to shower tile and bathroom floors.
Ceramic and porcelain tiles are good choices, because they are non porous and very durable. Porcelain is harder than ceramic stoneware, and is slightly more scratch resistant. If you're worried about chips, look for a shower tile that uses a clay body in a similar color to the glaze. That way, if a chip does appear, it will be less noticeable.
For the bathroom and shower floor, big trends right now are ceramic tiles that look like wood or cement. Faux wood in the form of ceramic tiles means the look and warmth of wood, with easier cleaning and more durability, especially in a humid space like the shower area. Cement look-a-like tiles are also very trendy and modern, giving an unexpectedly high class touch to indoor spaces.
When choosing a floor tile for the shower enclosure, remember not to get anything too slick. A shiny glaze means a slippery surface, especially when wet. If you really want glazed floor tiles in the shower but are concerned about safety, you can use tiny tiles, so that the grout breaks up the slippery surface area and gives a little more grip. Natural stone is another good choice here, since stone is easy to clean with simple dish soap or steam. Do remember that, unlike porcelain or ceramic, natural stone like granite or marble must be treated and sealed yearly.
What tile you choose for your shower walls, floor, and backsplash during your bathroom remodel is really a matter of taste. The main things to consider are the suitability for humid environments, the level of care and upkeep you are able to provide and the safety aspect (not too slippery). As long as the tile you choose is vitreous, humidity shouldn't be an issue. The combination of properly installed drainage systems and tiles that slope toward the drain goes a long way toward keeping the shower tile free of mildew. Whatever look you're going for, take your time and choose the perfect tile for each area of your home.
If you need help selecting the right material for your bathroom remodel give us a call at Carson Richard Kitchen & Bath. We'll not only guide you through the design process, but we can deliver everything from installation to completion. Call us or click here for a quote.