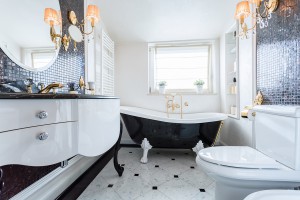 When it comes to bathroom design, it is hard to go wrong with the classic simplicity of black and white. Are you wondering how to incorporate this beautiful design scheme into your own bathroom? Read on for some fresh and timeless ideas.
Contrasting Fixtures and Tile
For maximum impact, try combining a sleek black bathtub and sink with the fresh, clean appearance of white tile and white painted walls. You can add a touch of elegance with a few splashes of gold or jewel tones in your accessories and décor items.
Bold Patterns
Do you want a bold modern look for your bathroom? Try patterned tile in sharp black and white, choose white marble with vivid veins of black, or invest in striped monochrome wallpaper. If you would prefer a darker bathroom design, you can go with a primarily black tile pattern, or install black marble shot through with pale veins. Whether your patterned room is dark or light in tone, you can accessorize with warm bronze or gold faucets and fittings.
Simplicity
If simplicity is your aesthetic of choice, there should be a variety of black and white styles to fit your needs. Start with a simple white bathroom and add depth with sleek black cabinets and black framed wall mirrors. A few pops of color in a vivid shade can provide cheer to your simple and beautiful bathroom.
Metal and Shine
There are several ways you can prevent your black and white bathroom from feeling overly somber or plain. Incorporate splashes of intense color or add shine with glass or bright metal. Consider silver faucets and fittings, metallic shower doors, or large wall mirrors in glossy and minimalistic metal frames.
Your Bold Bathroom
If you want to achieve maximum impact, black and white bathroom design provides a variety of options to suit your needs. You can try bold patterns for your wall or floor, add bright cheer through hints of vivid color, or simply choose the glamor and elegance of a clean, simple black and white room.
Interested in learning more about our bathroom design ideas at Carson Richard Kitchen & Bath? Contact us today! Our team of designers and installers can get you on your way to that bathroom remodel of your dreams. For a free remodel quote, click here.