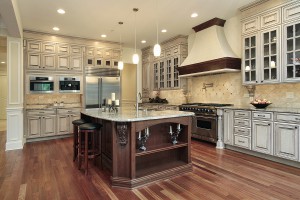 Any home remodel is likely to be beneficial in adding value to your overall real estate worth. However, kitchen remodeling has gained popularity over the past few years and has been known to deliver an impressive return on investment for the homeowner. A full kitchen remodel can bring new life to a home as well as an increased value if the homeowner decides to sell later on.
Whether you decide to remodel the entire kitchen or simply remodel a few key components, considering a remodel can be a big decision. Remodeling projects are often lengthy and require a lot of commitment to the project. However, a kitchen renovation can ultimately bring in more value to the homeowner than if they had chosen not to remodel. If your desire is to quickly bring more real estate value to the home, updated appliances can instantly bring the value of your home up. Energy efficient appliances will also save the homeowner money over time by utilizing fewer resources than conventional appliances.
If your kitchen remodeling desires run deeper than a new set of appliances, a full remodel may be the right option for you. Newly laid flooring as well as custom built cabinetry and countertops can add a lot of value to a home. Although the initial expense may seem great at the time of the remodel, the years of use and potential value should be greater than the sticker shock that comes from a full kitchen remodel.
The kitchen has become one of the most popular rooms in a home to gather. This makes the kitchen an attractive room to consider for a remodel, as it will be one of the most important aspects of a home if the owners ever decide to sell. Kitchen remodeling can be a worthwhile project if you are able to bear the initial costs, as it will add real estate value to your home when the project is complete.