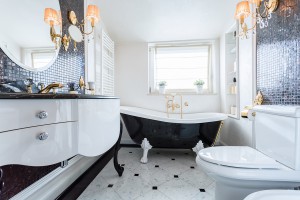 When you are looking at buying or selling a home, the two areas that increase or decrease the value of the property the quickest are the kitchen and the bathroom. So, how do you increase the value of your home without spending too much money? Bathroom remodeling is a great place to start.
The first step in determining how you want to remodel you bathroom is to decide what the purpose of your remodel is. Are you trying to increase the value of your home so you can sell it or are you improving your home so you can enjoy it for many years to come? The purpose of your remodel may help you determine the fixtures you want to install.
Next comes the fun part. Look around, find magazine pictures, go on a tour of new homes, visit your local hardware store and see what is available. Use your imagination and have a good time deciding what you want your bathroom remodeling to look and feel like in the end.
When it comes to flooring and walls in your bathroom, you probably want something that looks good and is easy to maintain. To help you achieve this look, manufacturers sell a product, known as tile mosaics that help you create intricate tile designs on your walls and floors. These mosaics come in a variety of colors and designs that are pre-attached to a flexible fabric backing that makes them easy to install while looking like you spent hours putting them together.
Often basement bathroom floors slope to a drain, which makes them difficult to tile, because they are not completely level. By using tile mosaics, your flooring will easily conform to the shape of your floor leaving it beautiful and functional.
Bathroom remodeling can be a huge project, but with a little creativity and some quality products it can be a lot of fun. You can enjoy a new bathroom and increase the value of your home at the same time.