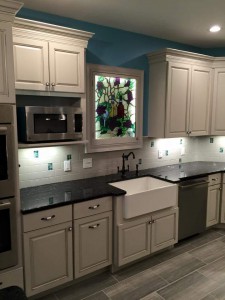 If you're in the market for new wood cabinets, you may be wondering what your options are before you decide to install new cabinetry. Although the main deciding factors should be your ideal style and budget, getting to know wood cabinet options is never a bad idea because you will be an informed consumer when it comes time to purchase and have new ones installed.
Wooden cabinetry comes in many different shapes and styles. Although dependent on your specific renovation budget, custom wood cabinetry can be an excellent way to bring beautiful design to your home. Custom wood designs are often more expensive than their semi-custom or stock cabinet counterparts, but are often longer lasting and can be designed to fit your specific design and functionality needs.
While searching for cabinetry options, it's important to consider what type of wood you'll want in your home. Oak and pine are the least expensive wood cabinet options, and can produce beautiful cabinets if done correctly. If your budget allows, a cherry wood is an excellent option that will beautifully complement your expertly chosen countertops. Cherry wood is known to deepen and darken over time, giving it a truly breathtaking hue.
Birch and maple are also popular wood options that produce beautiful and resilient surfaces. If you are looking for truly stunning cabinetry, mahogany wood is one of the most exquisite wood options. Although a bit pricier than the other options, mahogany is both a beautiful and functional wooden surface.
Weeding through cabinetry options can be a daunting task if you aren't prepared. Thankfully, a professional will be able to guide you in the right direction when it comes to the seemingly endless selection. Whether your heart is set on custom designed mahogany wood to match equally luxurious countertops or if your budget only allows for a stock cabinet, you will be sure to find the perfect wood cabinets to suit your personal style.