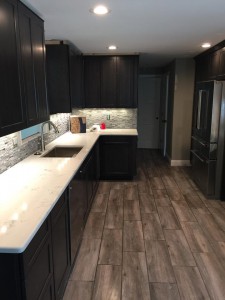 Do counter tops sound boring to you? Well if you're considering remodeling your kitchen or bathroom, you know they can be one of the most interesting and beautiful components of your kitchen. The variety of countertops is quite extensive, but two options rise to the top of the list – concrete countertops and natural stone countertops. If you find that you're having a hard time deciding between the two, consider the durability, beauty and look you are trying to achieve.
Both concrete and natural stone are quite durable, but they're not impervious to damage. Concrete by itself it very strong, but since it's naturally porous, it has a greater risk of staining. To prevent this, you'll have to use a sealant, but that too can be vulnerable to heat and scratches. Granite, one of the most popular choices for natural stone countertops, is very durable as well. It is extremely hard and scratch resistant, but it can still chip or stain.    
Granite has a natural, deep and complex beauty that is hard to match with concrete. Granite is known for the natural variations and contrasting veins of color that can create a dramatic and luxurious look to a kitchen or bathroom. On the other hand, cement is infinitely customizable and versatile. It can lend itself to the whimsical or the elegant. You can embed almost anything in your concrete countertops – lights, pictures, or any type of personal mementos. Or, you can color it to resemble granite, which may be an option if you have a unique shape or size that can easily be poured. Granite comes in slabs, so curvy counters may be difficult to work with.         
When it comes to countertops, there are benefits to both concrete or natural stone countertops. Both are durable and can be quite beautiful, but it really comes down to a matter of personal taste and the look you are trying to achieve. While concrete is extremely customizable, granite is considered the top of the line and the epitome of elegance.