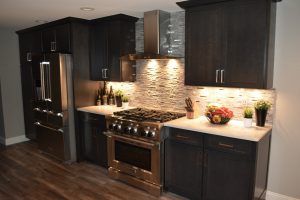 Granite is a great product for kitchen countertops that has been used for years. It is a solid rock that is quarried, cut, trimmed, and polished for a custom fit in any kitchen. It comes in a variety of colors and each piece is unique. It is heat and scratch resistant and can last a lifetime in your kitchen. So, why would anybody consider anything besides granite countertops?
Cost may play a big part in homeowners choosing other products for their kitchens. Granite takes a long time to cut, polish, and fit to a specific space. Because of this, labor cost for granite is high, making it hard for some homeowners to afford.
There are other products used for countertops that, although not as durable, may be more affordable.
Concrete is a fairly new product as far as kitchen remodeling goes. It can be stained with a multitude of colors and designs. Unfortunately, concrete is almost guaranteed to crack as it ages and it may chip much easier than other materials.
Laminate countertops are a popular choice for homeowners who are trying to keep their budget down. Laminate is made using thin sheets of plastic polymers adhered to chipboard. There are several attractive designs. It is not heat resistant and can easily be ruined if a hot pan is set on its unprotected surface.
Quartz is another option that looks very similar to granite and comes in a multitude of colors. It is comprised of natural ground quartz and polymer resin. It is easy to clean, less porous than granite and does not have to be sealed. However, it is not heat resistant and you may have to be careful not to damage the surface.
There are many types of countertops available for homeowners to choose from. With the durability of and beauty of granite countertops, as long as homeowners can afford it, there is probably not much of a chance of it losing popularity any time soon.