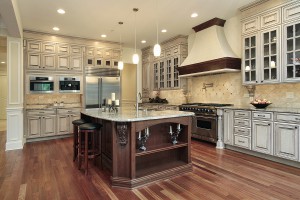 Kitchen remodeling is a big job that requires an expert contractor to carry out. If you've never hired a contractor before, you may be wondering where to begin. When deciding which expert to hire, ask these five questions first.
What Are Your Qualifications?
Ask potential contractors to tell you about their qualifications, but be sure to do your own verification as well. Contractors should be able to provide credentials such as license numbers, certifications and awards.
Do You Have a Portfolio?
Your contractor should provide a portfolio that includes both proposed designs and completed projects. Although you should see various types of work, specifically ask for pictures of projects that are close in proximity to the budget and style you're looking for. Compare work from several different contractors to determine which one best suits the style you want to achieve.
How Do You Manage Your Projects?
Kitchen remodeling requires as much organization as it does skill. Ask potential contractors what process they take to get to a completed project. How long do they spend coming up with a design? Do they offer cost alternatives? How do they handle setback sin a project? A good contractor will be rigid enough to get your project done in a timely manner but flexible enough to be able to handle setbacks if necessary.
How Do You Keep Up With the Latest in the Industry?
Your contractor should be updated on trends, products and technology related to home improvement. Determine whether they are set in their set in their way or if they read blogs and attend trade shows related to the industry.
Can You Accommodate My Needs on My Budget?
Of course, portfolios, certifications and knowledge of industry trends won't matter if the contractor is out of your budget or isn't currently taking on your type of project. Be honest about what you can afford and what you hope to achieve with your budget. Doing so prevents misunderstandings and setbacks down the line.
By asking the right questions, you can hire the right contractor. The right contractor is sure to make your kitchen remodeling project a success.