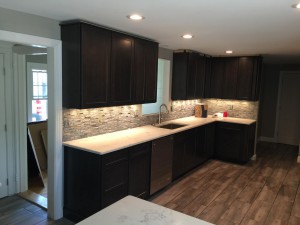 When it comes to kitchen remodeling, the one and only part most homeowners generally want to focus on is the design. While the design is certainly an important part of the process, all aspects need to be addressed in kind, and this begins with choosing the right kitchen remodeler. After all, picking any random name and number you find online can become a nightmare if the person or company isn't right for your home project. Here's how to choose the best remodeler for your kitchen, leaving you with nothing to think about but the fun stuff.
Ask the Necessary Questions Upfront
One of the most important details to choosing a kitchen remodeler is asking all the right questions ahead of time, before hiring them to start right away. Naturally, you're going to be in a hurry to get the remodel process started and finished as quickly as possible, but making too fast of a decision at this stage can be a major mistake. Take the time to write down all the things you want to know. This should include inquiries into their past experience on the job, best references to contact, checking out a portfolio of past projects to see if their method of business suits your ideas and more. Asking how long the kitchen remodeling process will take and their estimate on costs is also crucial, so you know exactly what to expect from the get-go.
Verify Their Qualifications
Investigating a remodeler's background is key to choosing the right fit for your home. Ensure that the company is registered, that every employee that's going to be signed onto the project is licensed, insured and certified in the field, and that the work they do is going to match with what your plans entail.
When you're looking to get started on kitchen remodeling, focus on choosing the right remodeling company first before getting too distracted by the elements of the design. The fun stuff will come, but only after you choose the right remodeler for the job.