Bathroom Renovation Trends And Design Ideas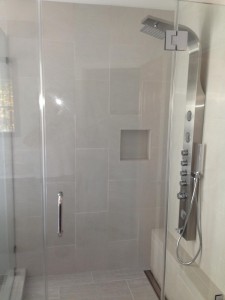 Today more and more homeowners are implementing high-end, luxury bathrooms into their homes. What was once an afterthought in terms of design, is now all the rage. From large open showers with multiple shower heads to soak tubs and saunas, bathrooms are sure getting a modern upgrade.
One overarching theme among these remodels is that master bathrooms are getting bigger. If there's no space to expand, homeowners are finding ways to create the illusion of open space by playing with natural light and implementing special design techniques. Other popular bathroom remodel trends include:
Shower Trends
Bathroom showers have come a long way from your standard hose and nozzle. Today, you can program showers to remember your personal preferences from temperature to water pressure. These high-tech gadgets are definitely a luxury, but there are other trends that are a little more affordable.
As mentioned above, homeowners want large open and bright master bathrooms. In order to achieve this look, many master baths feature seamless glass shower walls or no walls at all for a more European look. These design choices allow more natural light to flood into the shower, making it a bright place to wash off.
Showers are also getting larger. Some homeowners are even opting to go with larger showers instead of creating a bathroom that houses both a shower and a bath tub. These larger showers often feature several shower heads, body sprays, seating and relaxing lighting.
Popular Sink Designs

Double vanities are a huge selling point in master bathrooms today. The more space the merrier, especially if you're sharing your master bath. Another popular design choice in master bathrooms are vessel sinks. While simply a design preference, these sinks add to the overall spa theme of a master bathroom.
Bathtub Additions
Jacuzzi tubs are no longer the a master bathroom must-have. Today, homeowners are installing deep soak tubs that are just as luxurious without all of that noise. High-end tubs can even feature mood lighting and therapeutic music.
Water Saving Features
Today, energy efficiency is in high demand, which means homeowners are installing water saving fixtures in their bathrooms including water efficient toilets and shower heads. When shopping around for you fixtures, look for the WaterSense label, which means that the product is water efficient.
For more bathroom remodeling trends and design ideas, give us a call at Carson Richard Kitchen & Bath. We're happy to provide both design renderings for your new bathroom as well as a complete bathroom renovation. For a free quote on your bathroom remodel, click here.